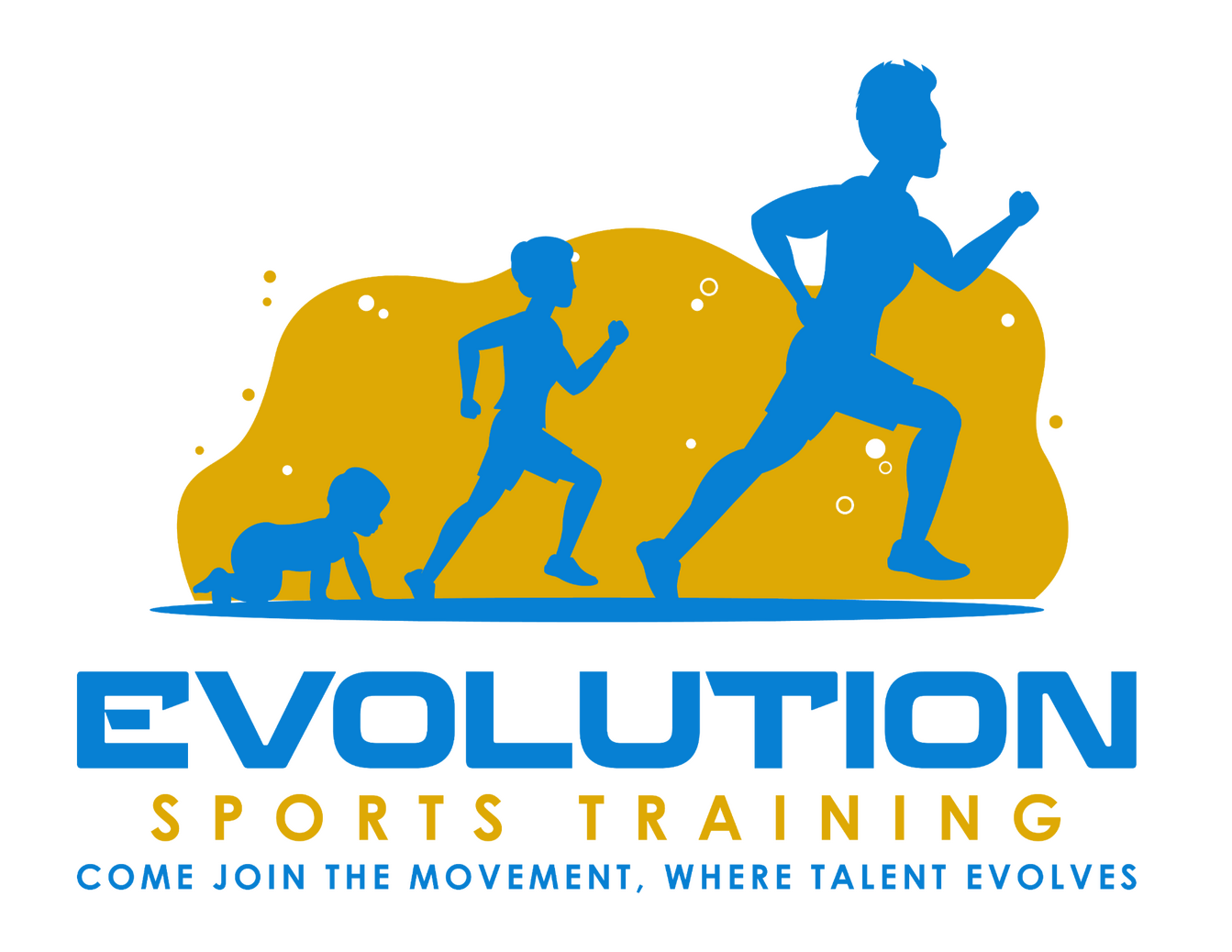 ---
Come join the Movement. Where Talent Evolves.3 Via Positiva
San Juan Capistrano, CA. 92675
---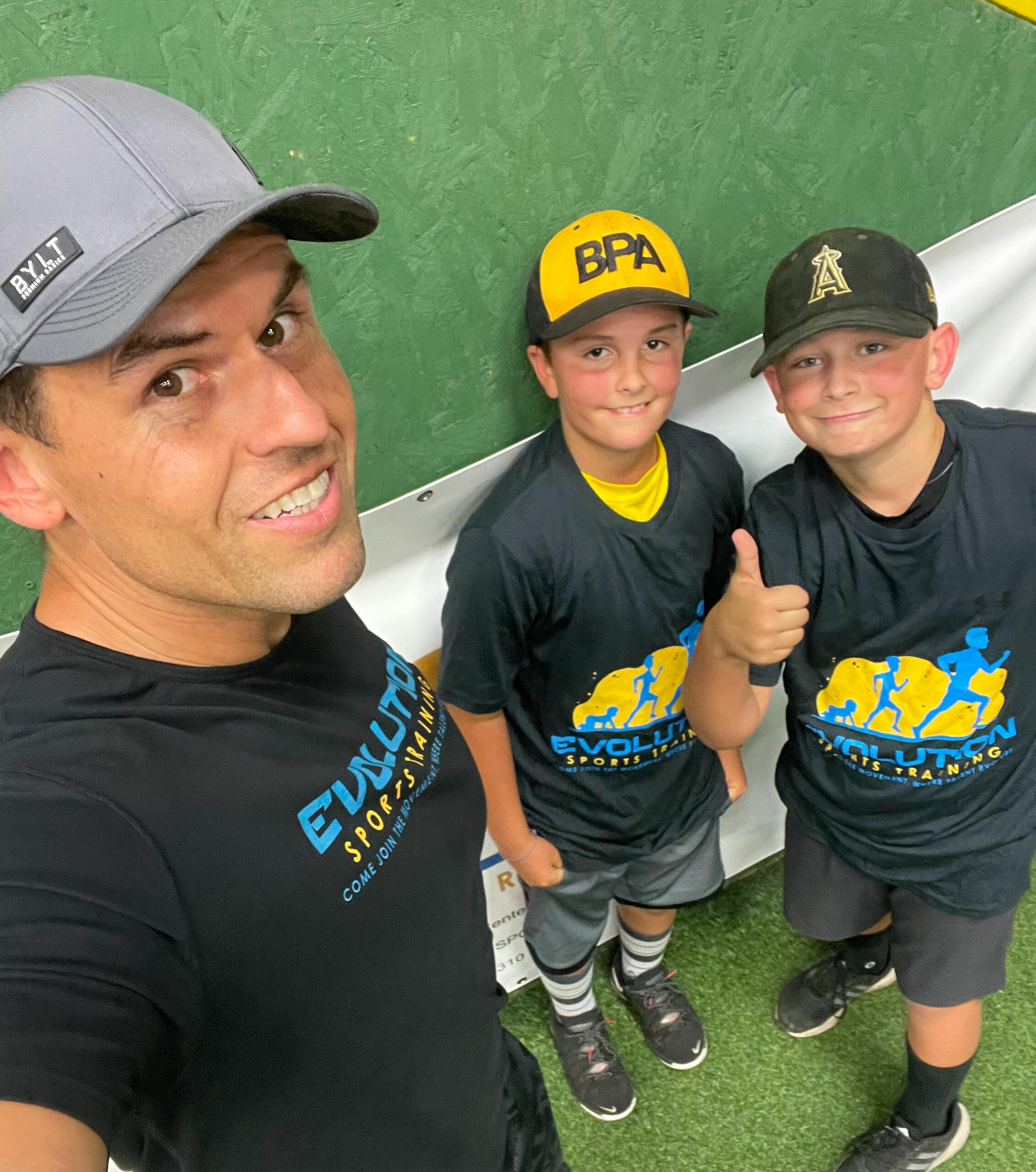 Evolution Sports
---
The reason we named our Facility Evolution Sports Training, is because everyone evolves through our training. Our Goal has long been LTAD (Long-Term Athletic Development); We want our athletes to stick with us through their athletic careers and continue to grow in their athletic endevours.
Training Philosophy
---
"Evolutions Sports Training philosophy is that we want to make our athletes unbreakable; aka (injury proof). The second most important thing is to make our performance gains repeatable, what we do in the 1st quarter is same effort we give in 4th quarter. Our athletes have no let up they can produce max effort from start to finish."That's why they train with us and that's why we train to Evolve, we have got to adapt our training to our clients specific needs so we get the exact adapatations we want.Coach Newman
Sports Performance Training
---
What is Sports Performance training, here at Evolution Sports we are about getting the RESULTS our clients want. We do a variety of things from increasing athletes speed, to making them more efficient in their movements, work on their explosive power, develop their functional strength, or just get them anaerobically conditioned to recover faster between bouts. It is our goal to continual strive for improvement each and every day. If we are not Evolving we are staying the same or getting worse, so "Lets Evolve".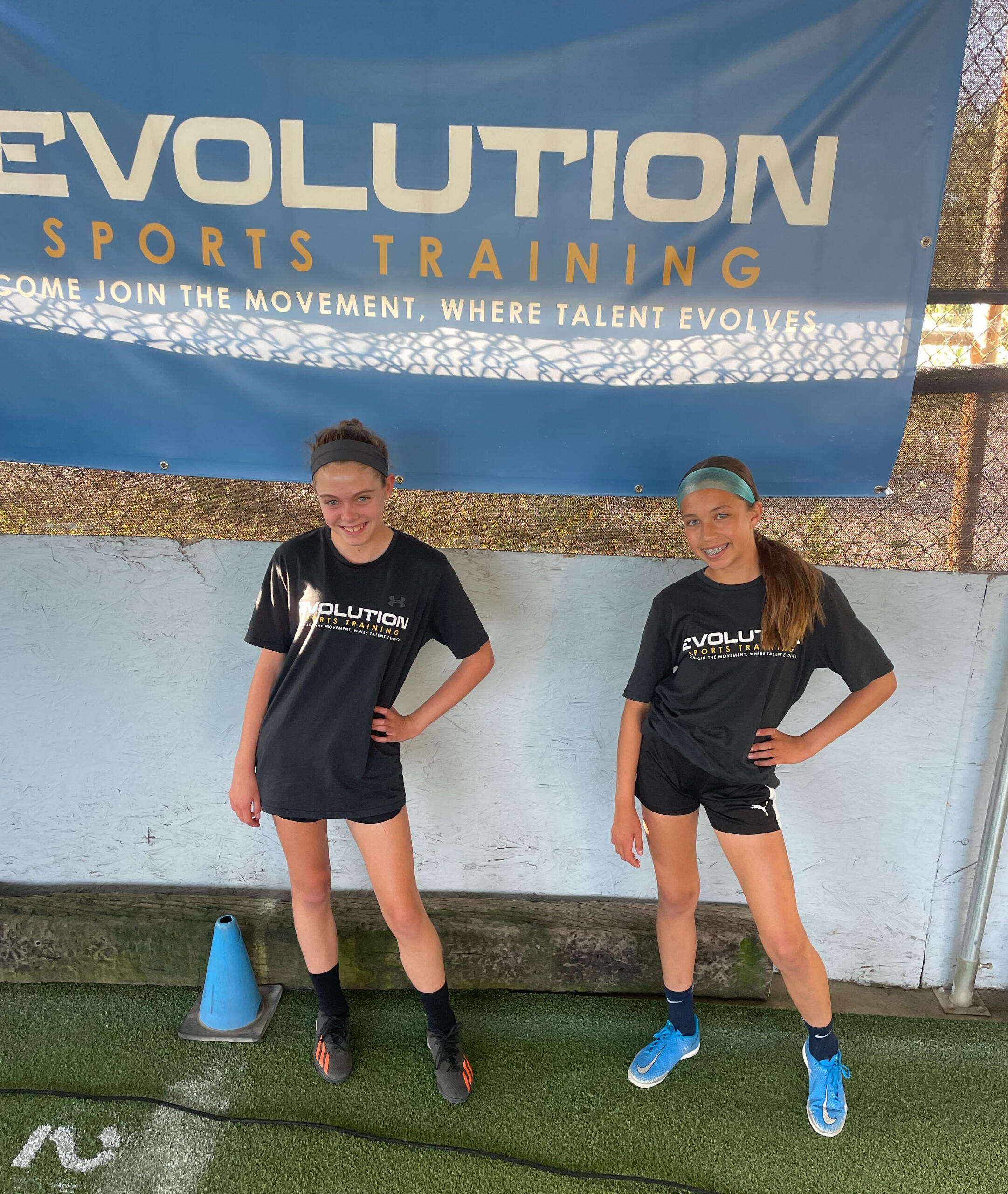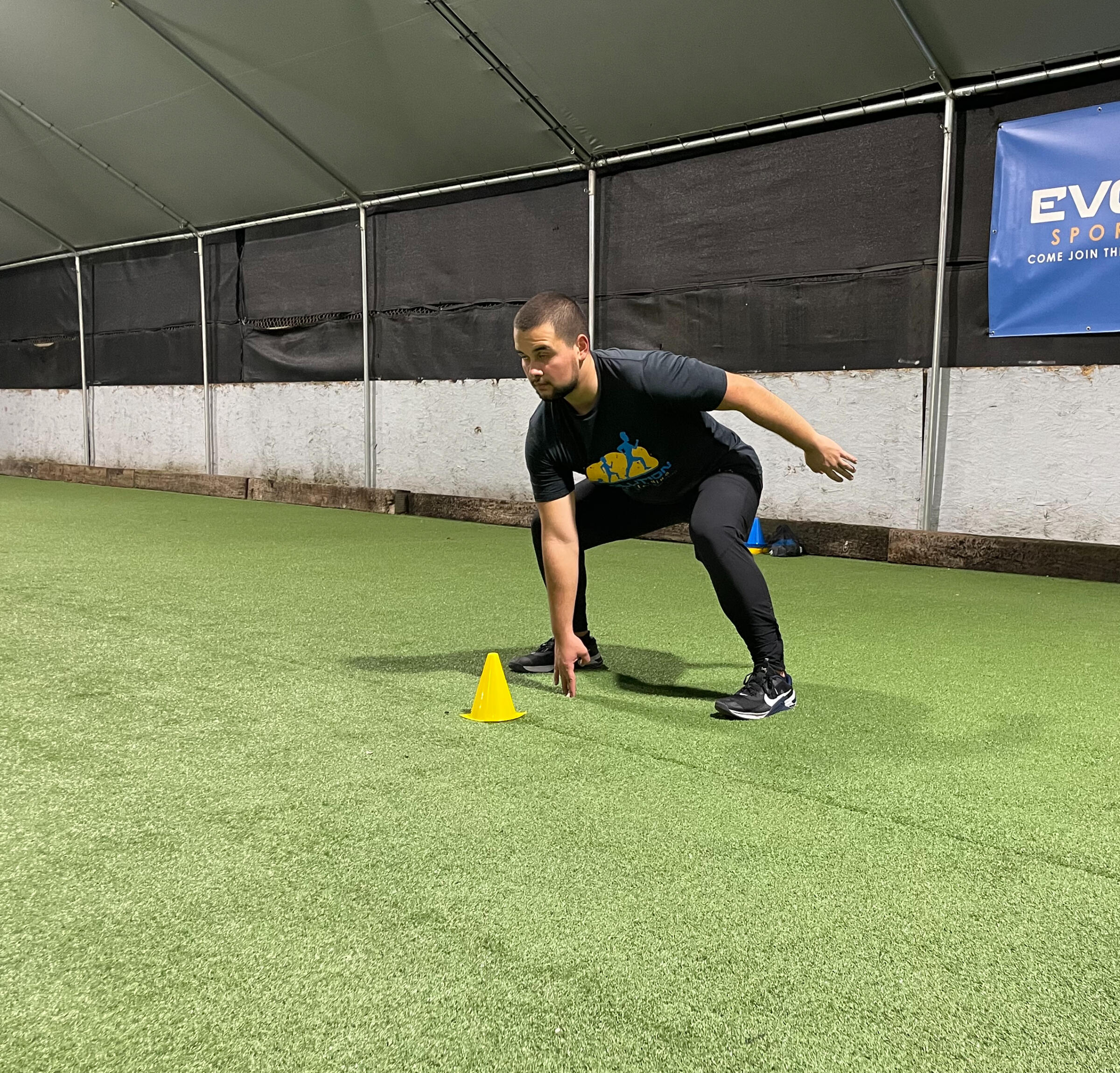 What We Offer
---
Training is not just about getting tired or working up a sweat but about being able to move explosively recover and do it again.Evolution Sports offers Semi-Private, Private, and class based model training. We have services that will fit all athletes needs and abilities. Our goal is to evaluate our athletes, develop them and bulletproof them.For more information click the link at top of page and send us your contact info and a message so we can get right back to you to get you started on reaching your ultimate athletic goals.
Contact Us
---
Send us a message so we can help you reach and attain your Goals
Thank you!
We appreciate your interest in Evolution Sports Training, and can't wait to Evolve your athleticism.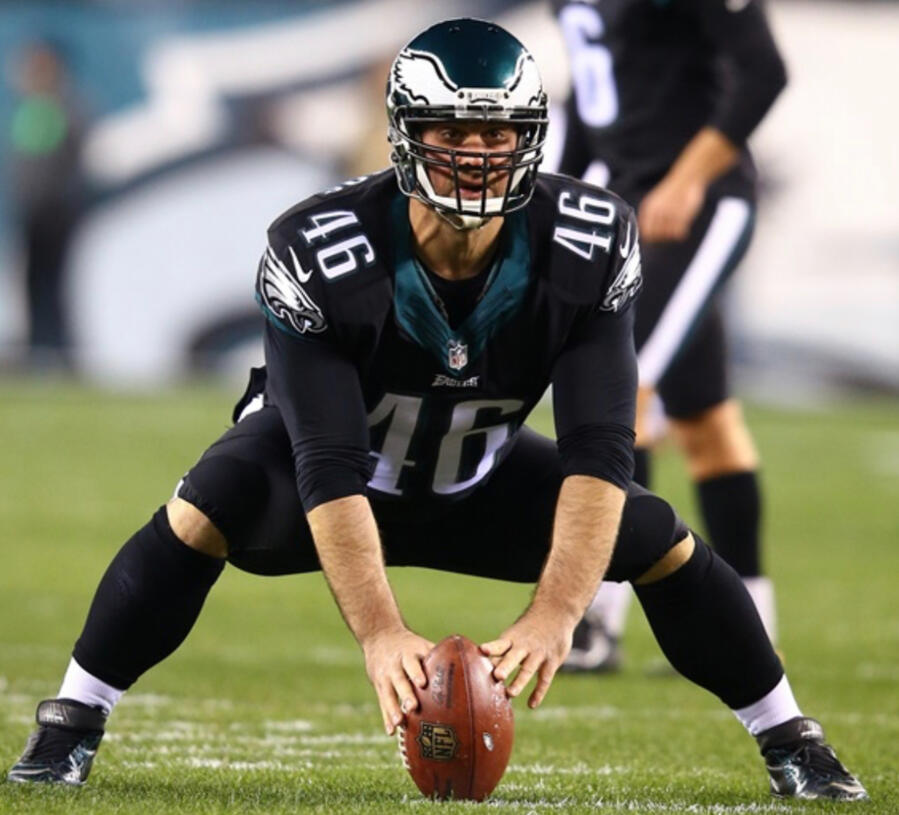 Jon Dorenbos (LS)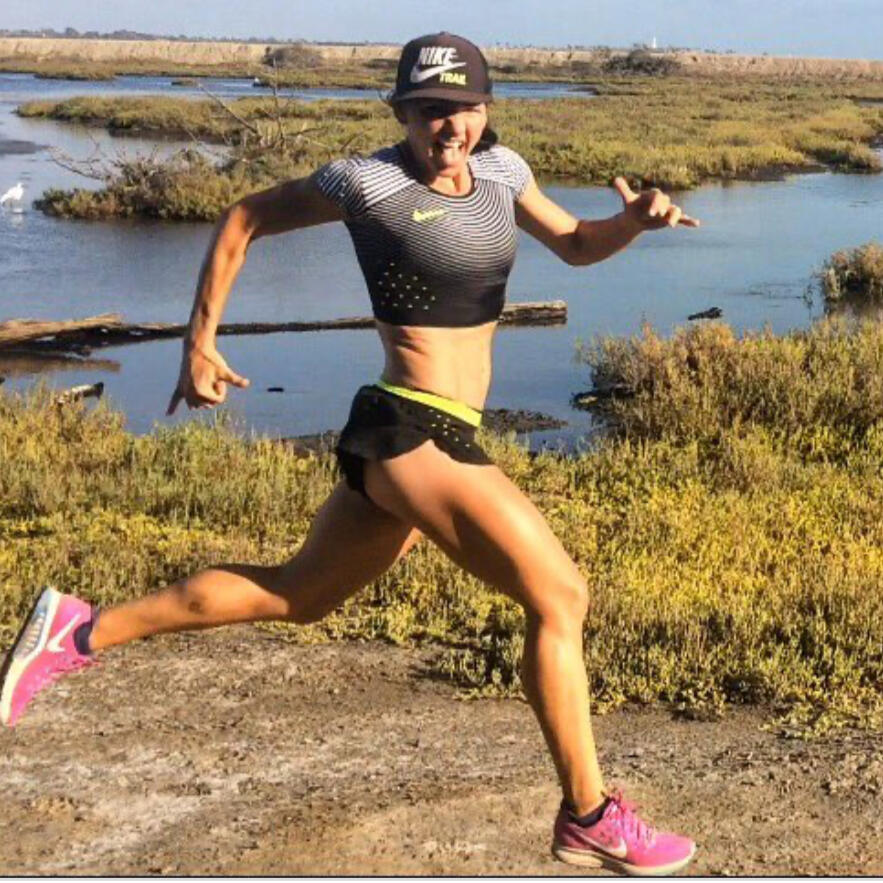 Sally Mcrae (Ultra/Trail Runner)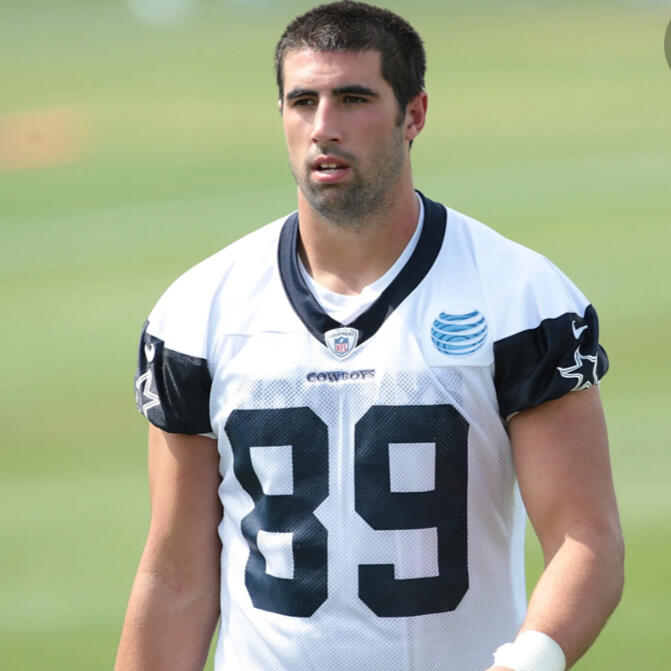 Gavin Escobar (TE)
Christian Yount (LS)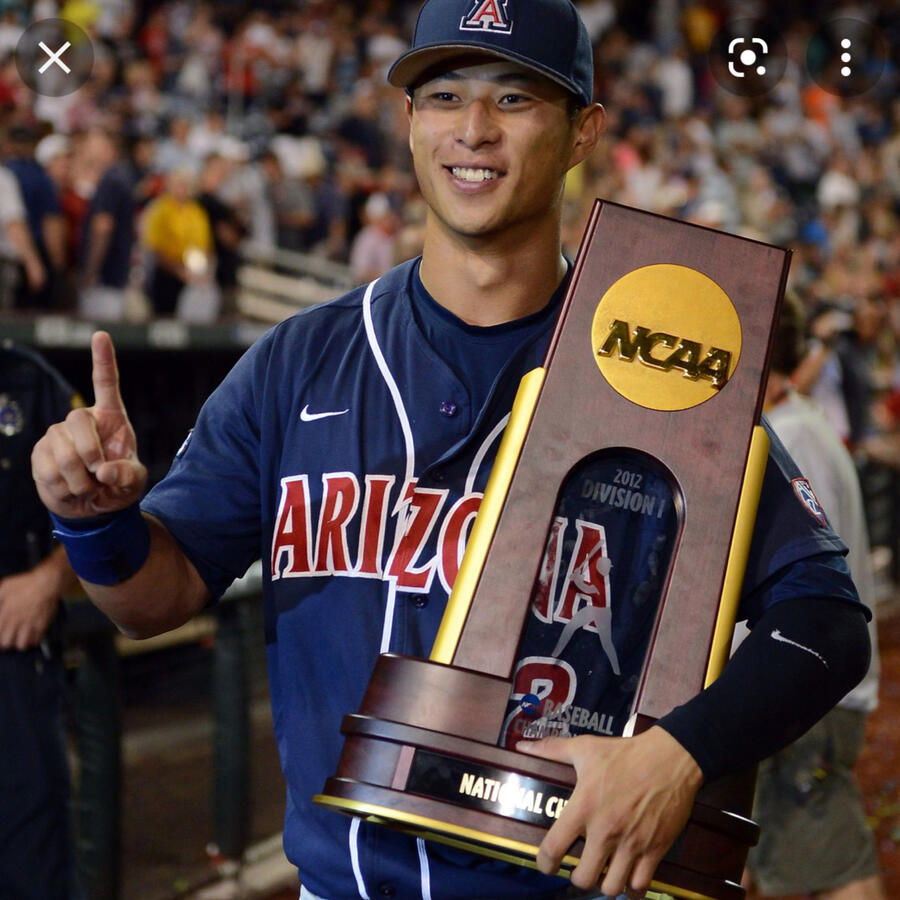 Rob Refsnyder (OF)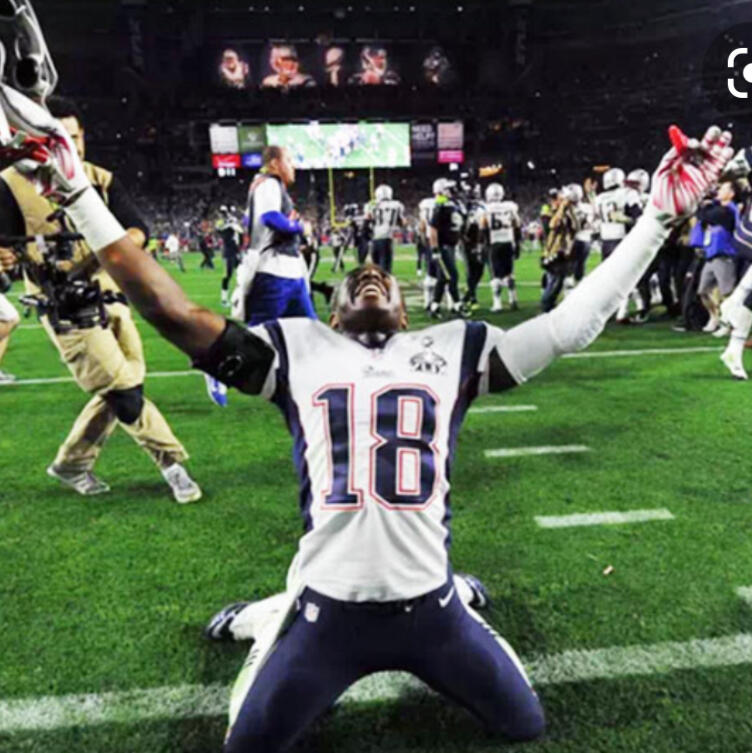 Matt Slater (Specialist)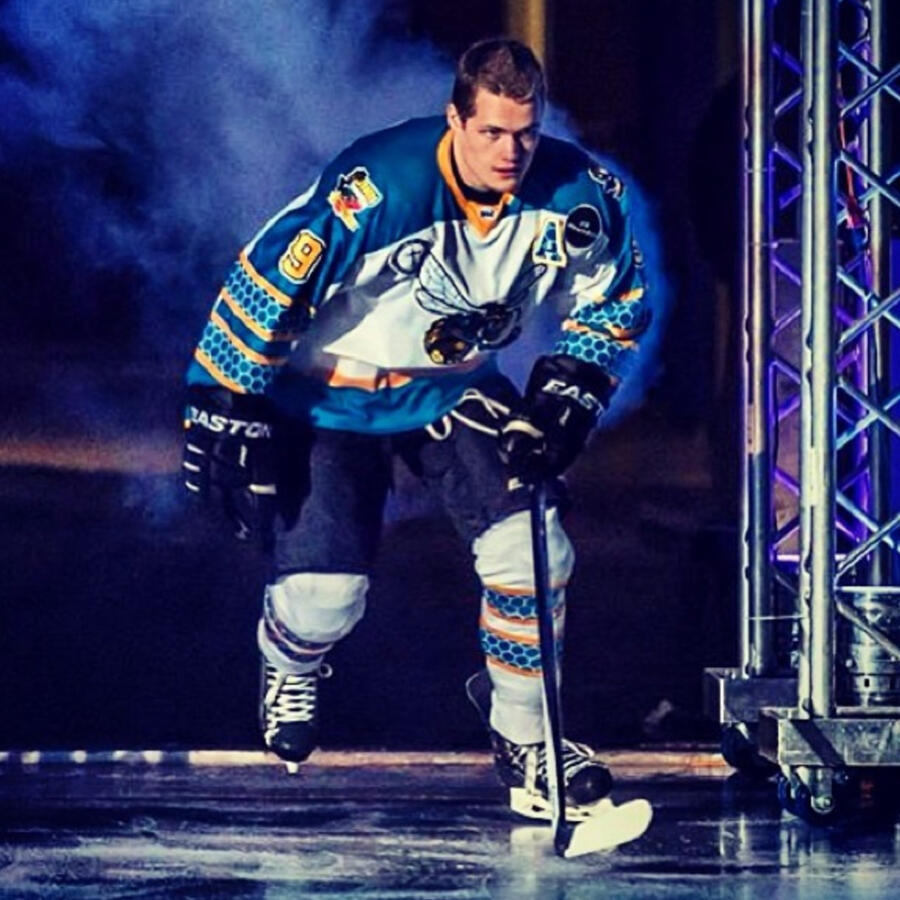 Ben Greiner (Hockey Player)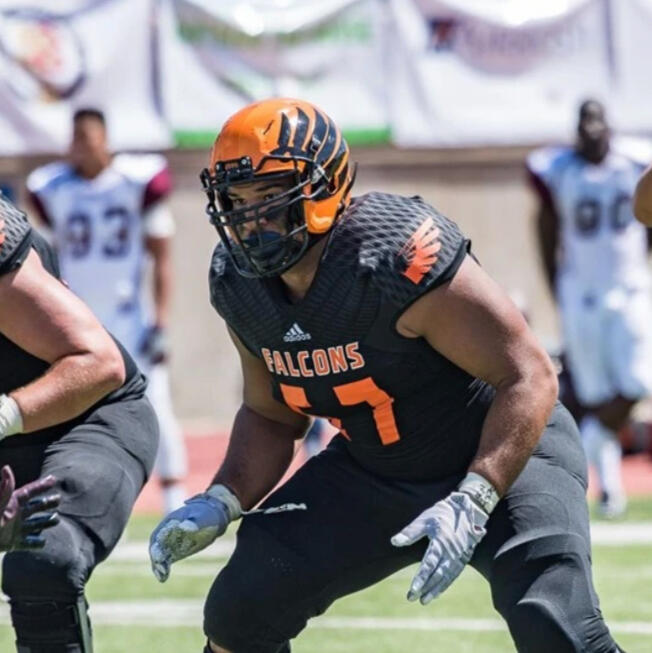 Corin Brooks (OL)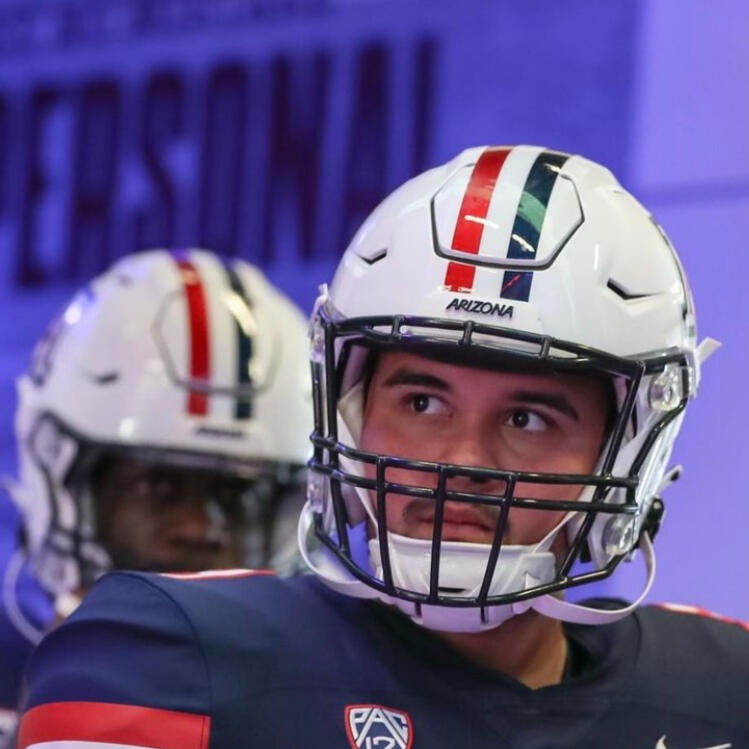 Kameron Hawkins (LS)
Speed and Agility Training
---
Speed and Agility training is geared around making our athletes more efficient in their movements. As well as giving them the skills to become quicker, more explosive, and move way faster. The training will work on footwork, balance, coordination, plyometrics, agility, and linear speed.
Strength Training
---
Strength training is geared around keeping our athletes healthy year-around as well as giving them bigger engines to work with. What that means is that as athletes get stronger, more mobile, and develop power they will be able to absorb more force and also produce more force. Both these concepts lead to an athlete becoming more durable as well as more powerful. The strength component of training is the core of all of it and should not be overlooked because this is what can really change how an athlete will perform this upcoming season. It's basically like a car putting a new engine in it, can turn a non-starter into a starter with a solid strength program. Don't hesitate to get your program going this takes dedication and consistency to really get great results.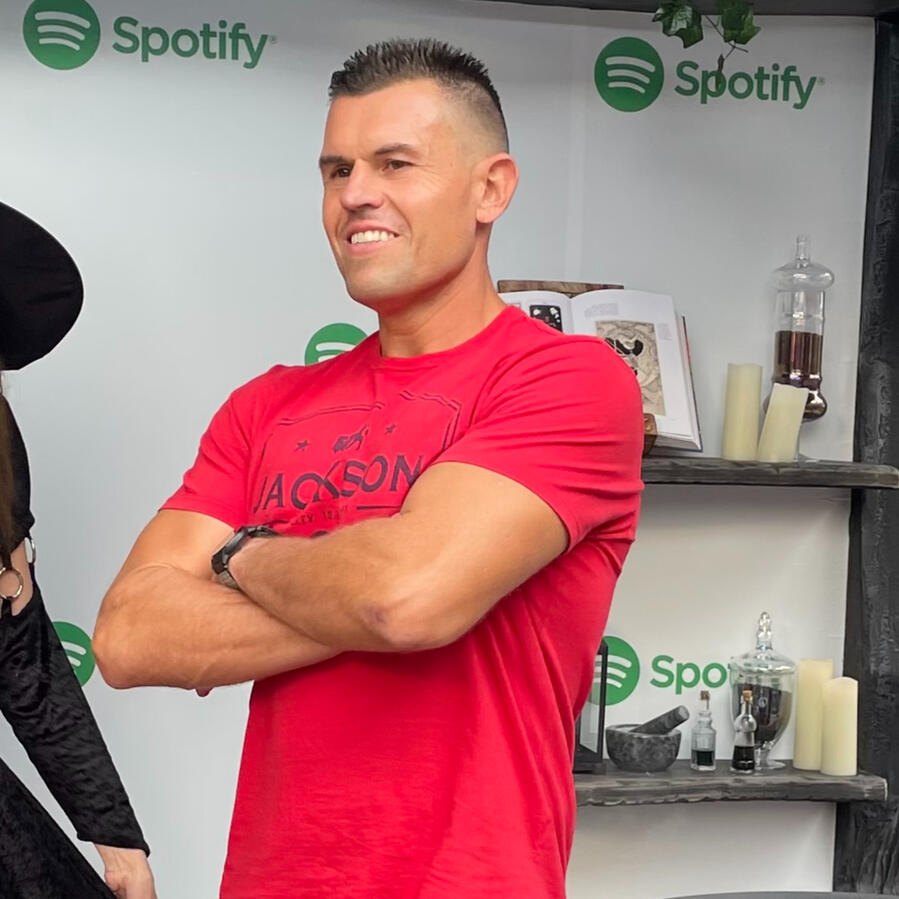 Coach Newman
Coach Newman is the Founder and Owner of Evolution Sports Training. He has been in the field for 25 years now and has a wealth of knowledge regarding training and effieciency of movement. His experience comes from both playing sports his whole life as well as coaching now for 25+ years. He got his start in the field at Arizona State University where he worked under 3 eventual NFL Head Strength Coaches. At Arizona State he got to work with Men's Basketball, Football, and Wrestling. After getting his undergraduate degree, he got certified by NSCA (CSCS), and USAW. At that point in his career he got into graduate school at Cal State Long Beach where he was hired on as a Graduate Assistant strength coach who was in charge of three sports Baseball, Men's Golf, and Women's Water Polo. During his time at CSULB his water polo team was always ranked in Top 15 in country, Baseball produced many big leaguers including Troy Tulowitzki, Jered Weaver, and Evan Longoria. And the men's golf team won a Big West Championship. While he was attending CSULB he was also working in the private sector of sports training for a The Cutting Edge where he eventually became the performance director. Coach Newman has worked with some very high level athletes during his career and also worked with some very unique sports such as Ultra/Trail runners, rodeo riders, as well as all the rest of the major sports. His primary goal with all athletes is to analyze the movements within their sports breakdown weaknesses and strengths of athletes and help them to ultimately reach their goals in there particular sport.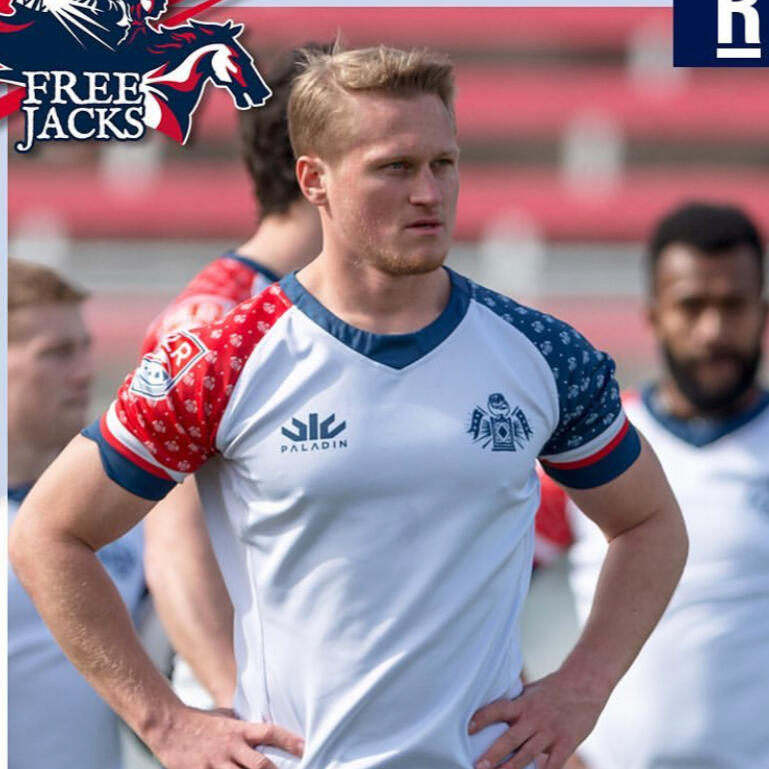 Coach Erik
Erik is a Southern California native who went on to have a successful athletic career, and has since transitioned to a career in strength and conditioning. Growing up, Erik played just about every sport you could think of, however nothing grabbed him quite like rugby did. Starting at age 10, Erik grew passionate about the sport and knew he wanted to pursue it at a high level. As a late bloomer and undersized high school student, Erik had an uphill battle in front of him. Eventually however, strength and conditioning became that catalyst to gain that edge he needed to achieve higher levels of success in his sport.
That catalyst would propel him to a career highlighted by 4x All American selections, a Team USA Under 20 Junior World Cup Bronze Medal, a UCLA degree, international rugby experience in Hong Kong, Canada, England and New Zealand, a Men's Division 1 National Championship, and professional rugby contracts in the MLR (Major League Rugby) with the New England Free Jacks. Throughout these experiences, there was an increasing demand for strength, power, fitness, vision, and overall athletic ability that pushed Erik deeper into the world of training. During his times in high performance environments, he grew passionate about the behind-the-scenes process of sports.
Like any athlete, there were ups and downs in Erik's athletic career, however he often turned to training to seek the solutions that lead him to the level of sport he achieved. During his time with the New England Free Jacks and the strength and conditioning staff, he realized it was time to turn his passion for the process into a career. Erik began to intern at Flight Performance and Fitness under Jared Collinson and Dylan Gutheil where he worked with and trained a variety of athletes. From young kids and senior citizens, to USA National Team athletes, Erik gained exposure to working with athletes of all different levels.
Recently completing his career in rugby, Erik obtained his CSCS (Certified Strength and Conditioning Specialist) through the NSCA and decided to fully dedicate himself to the training side of sports. Erik understands that each athlete is unique, possessing different strengths and weaknesses, and seeks to find the perfect individualized formula of training to help his athletes improve their health and reach their peak level of performance.
Purchase Products
(Click Link to pay for package)
Performance Testing
Peformance Testing will include a test for linear speed, change of direction, lower body power and conditioning. Once data is collected you will be given a score on our Power Index to give you an idea of your performance.Performance Testing is $20
Semi-Private Training
Semi Private training Model: This is training that is geared for an individual specific needs and goals. But comes at a rate less than private training cause you will have a coach training other clients during this hour as well. So all clients will have a program made specific to them just not have a private hour to themselves. The benefit of this can also be social interaction as well a bring competition and energy to your session.Session rate is $50
Training packages are recurring billing on purchase day monthly.
Sessions will expire after 8 weeks of purchase date.
Private Training
Private Training: 1 on 1 training where client purchases his own private hour with trainer to work on his very specific needs.Private training rate is $100 per session
Training packages are recurring billing on purchase day monthly.
Sessions will expire after 8 weeks of purchase date.
Drop-in Fees
Drop-in is paying 1 session at a time, for any of our services.Semi-Private rate $60
Private rate $150
All packages will be setup as recurring monthly payments until notified to cancel or pause package.Cancellation policy is 24 hour notice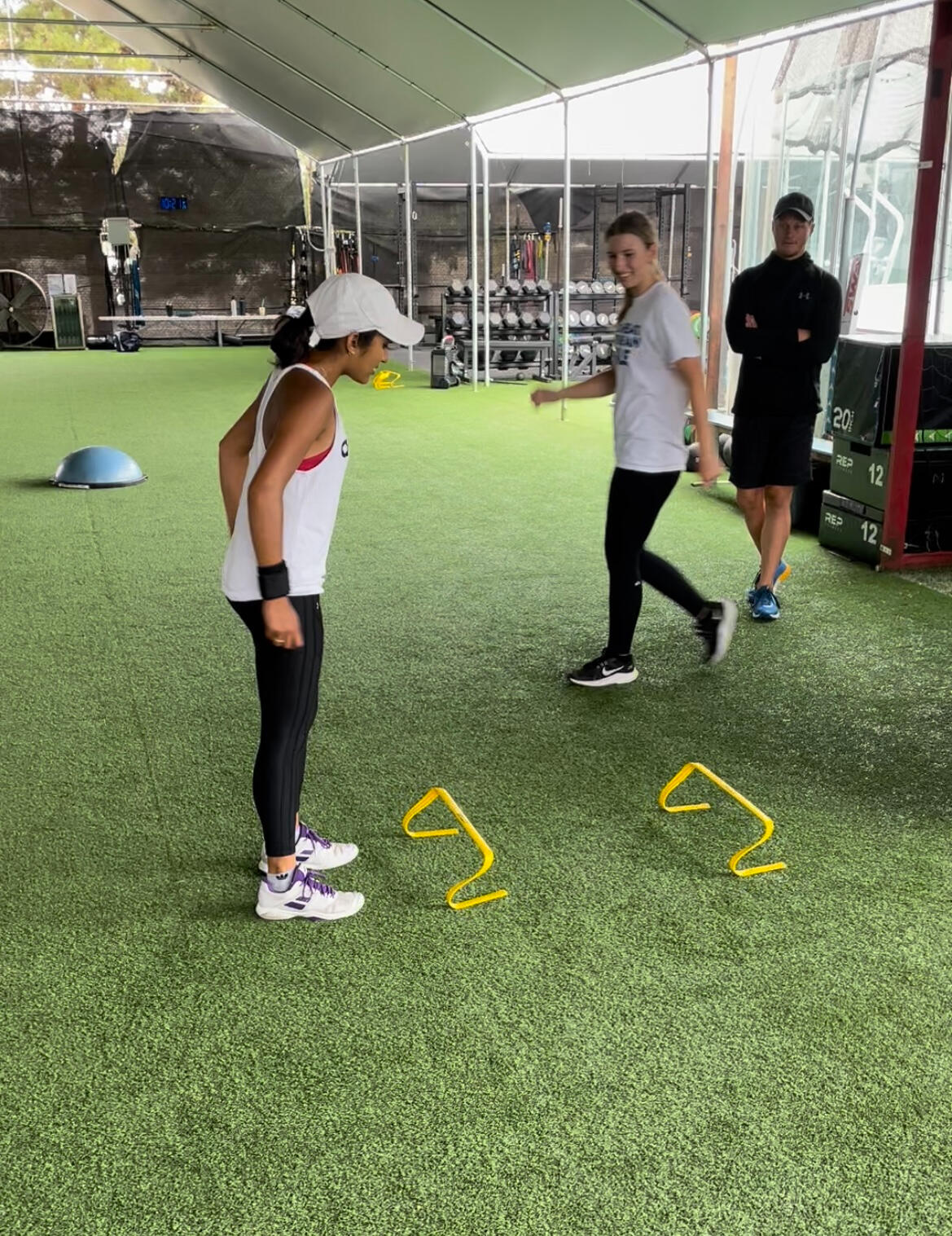 Summer Promo 20% off 3 Month Training Plan
Commit to training for the next 3 months at Evolution Sports Training and receive 20% off package price. This is our limited time Summer Promo to get clients trained for the entire summer at a fraction of cost. This is for Semi-Private training packages only. Where clients get their own training programs but share a coach with other athletes.
*Promo must be paid in full upfront
(Click Link)
Photos of Facility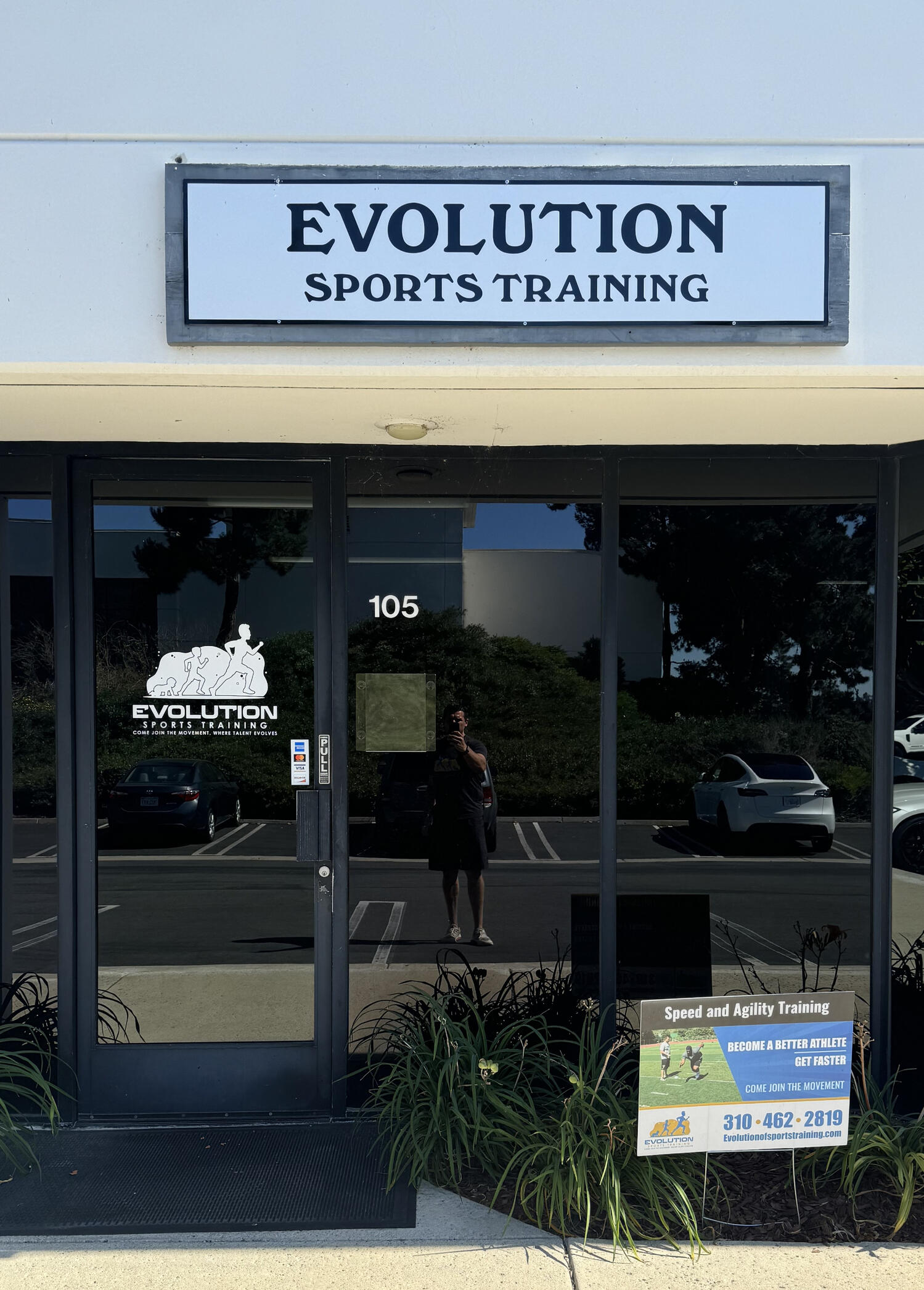 Entrance
Squat racks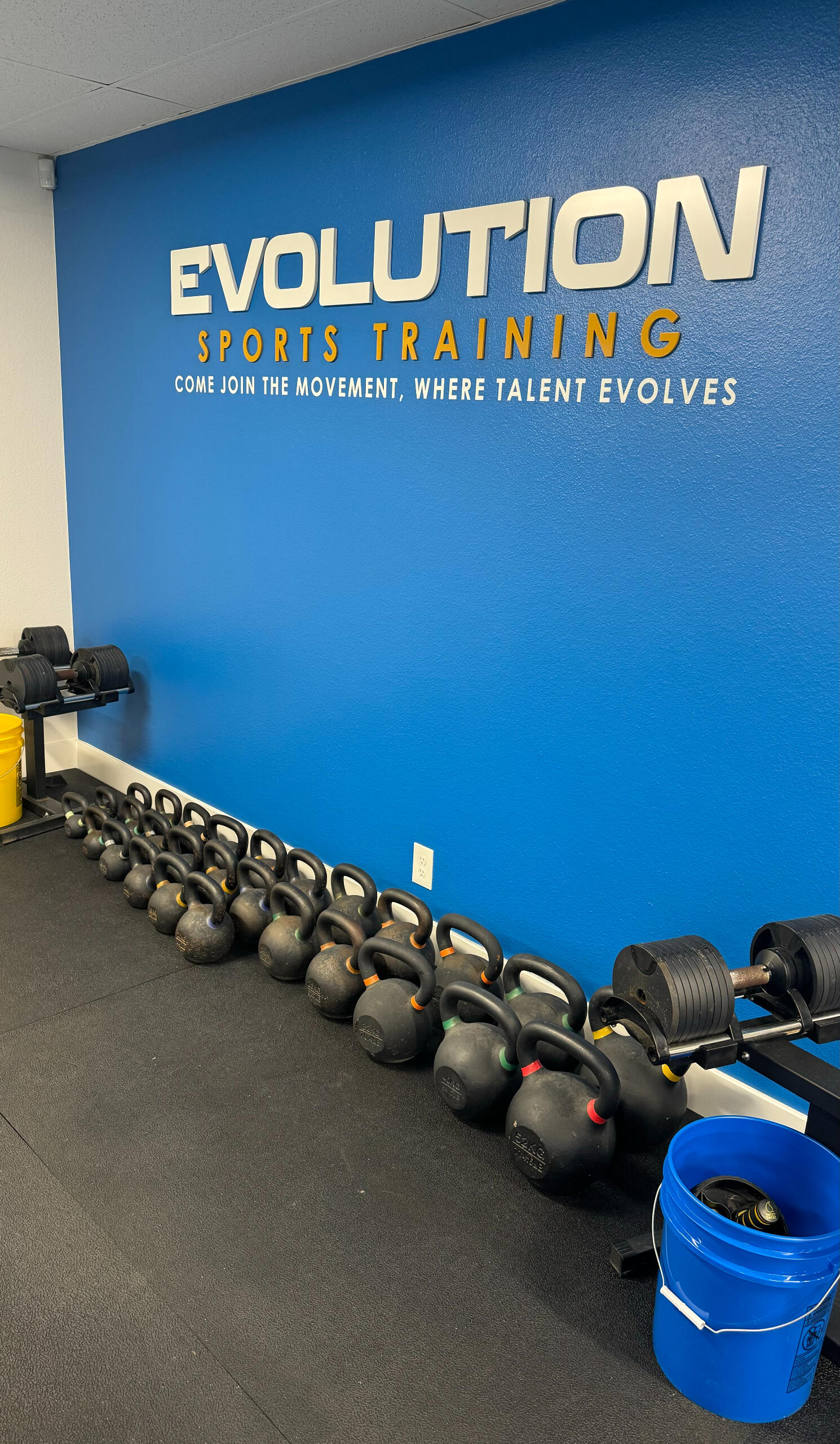 Kettlebells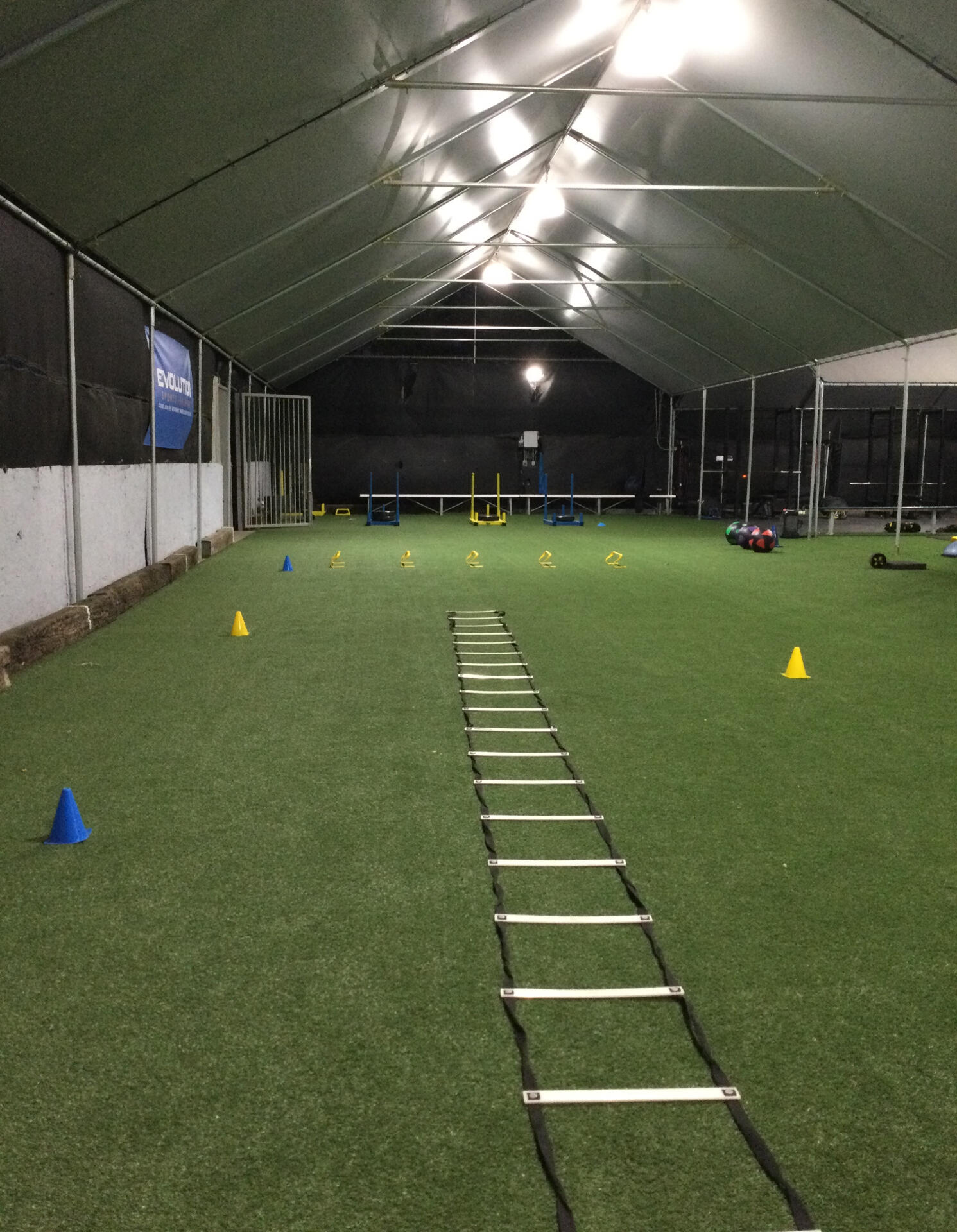 Turf Area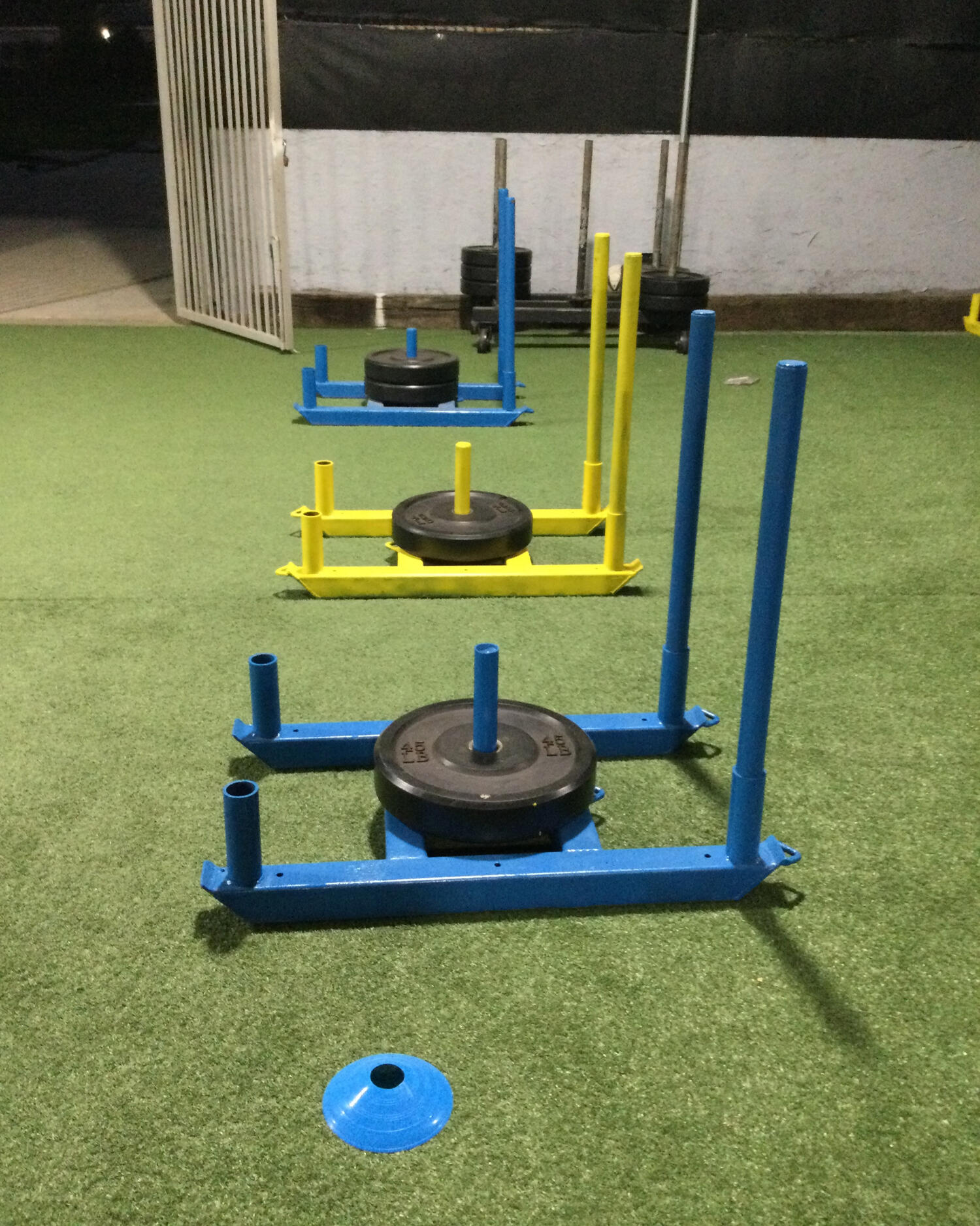 Sleds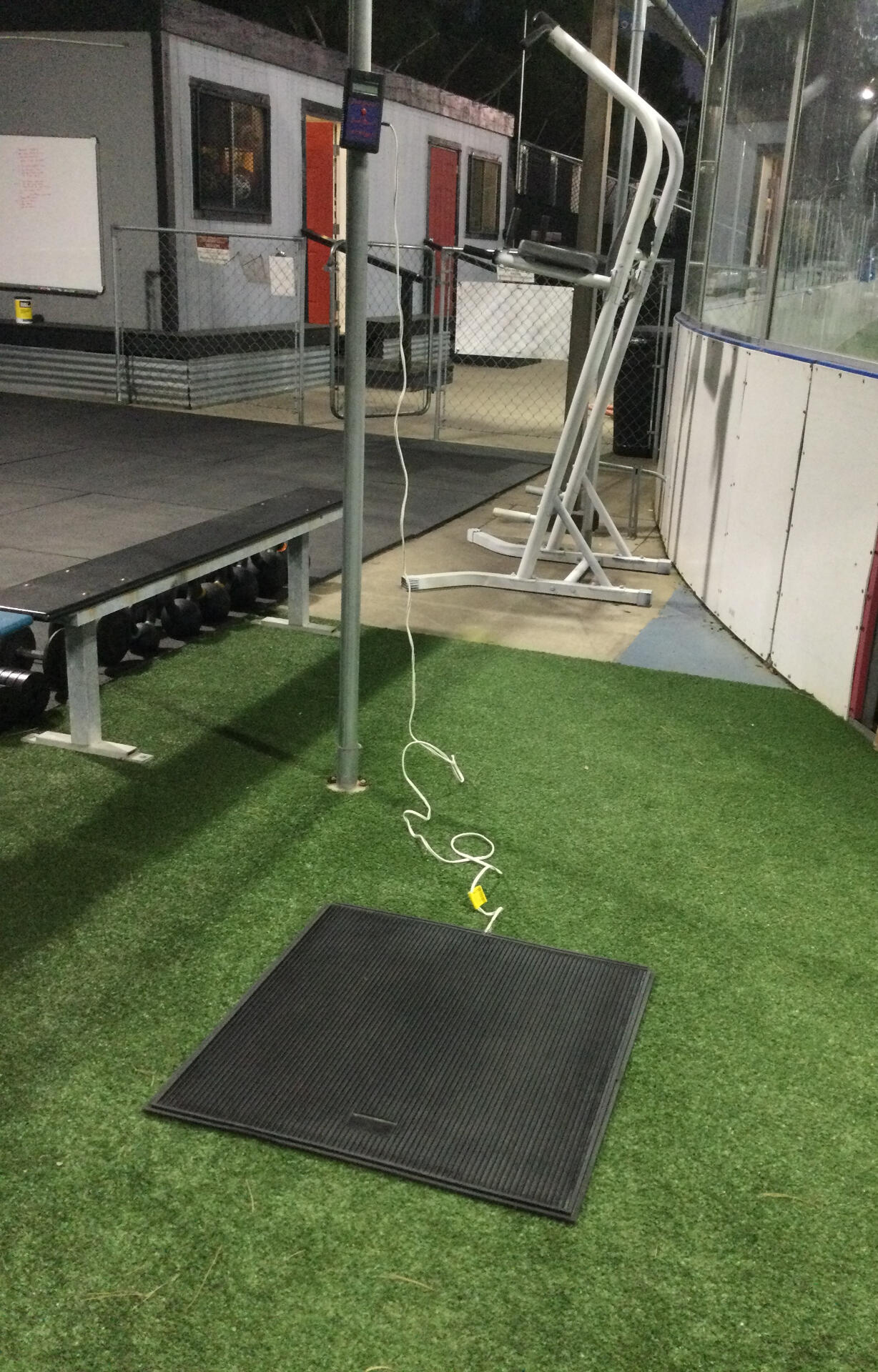 Vertical Jump Mat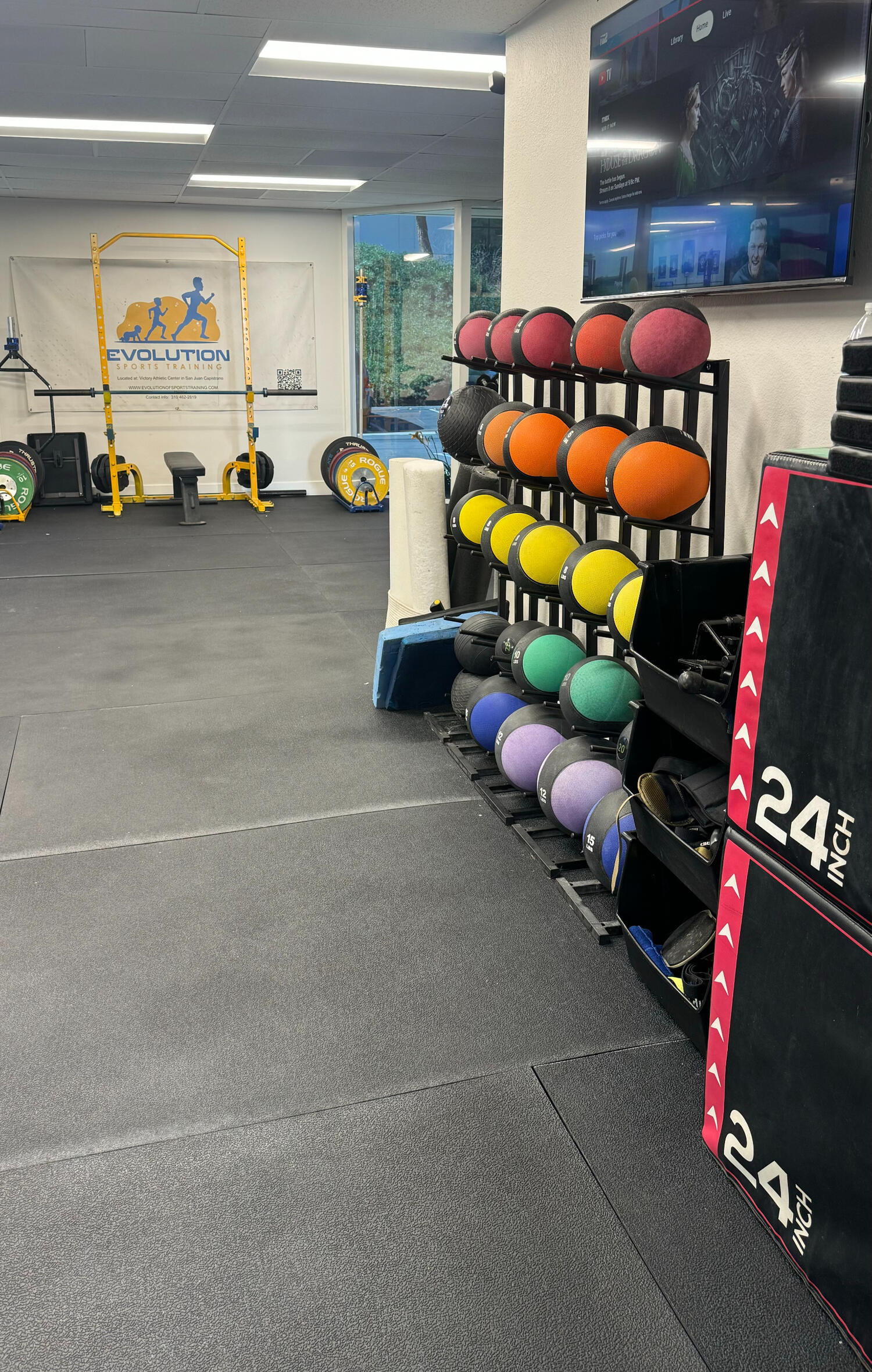 Core Work area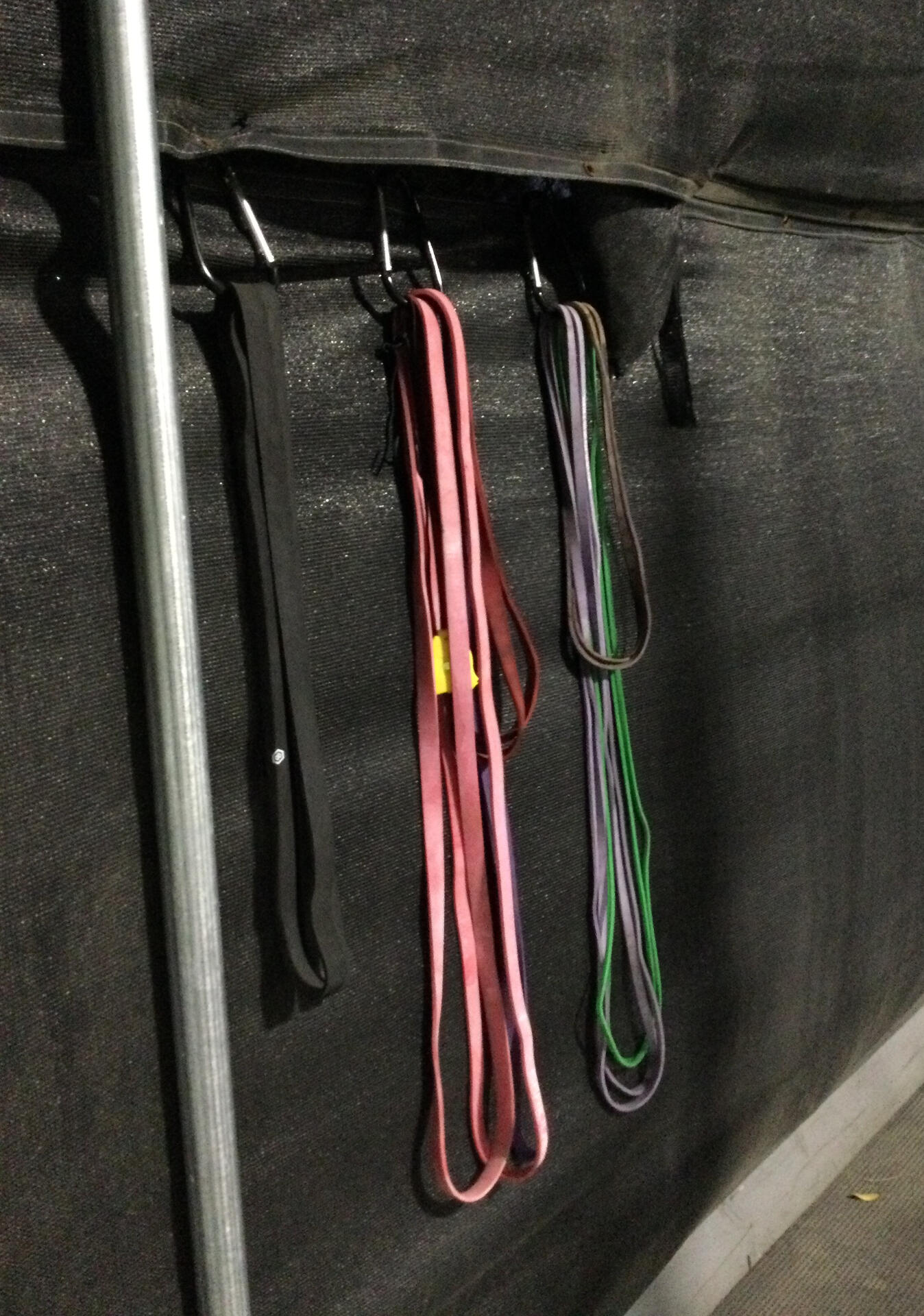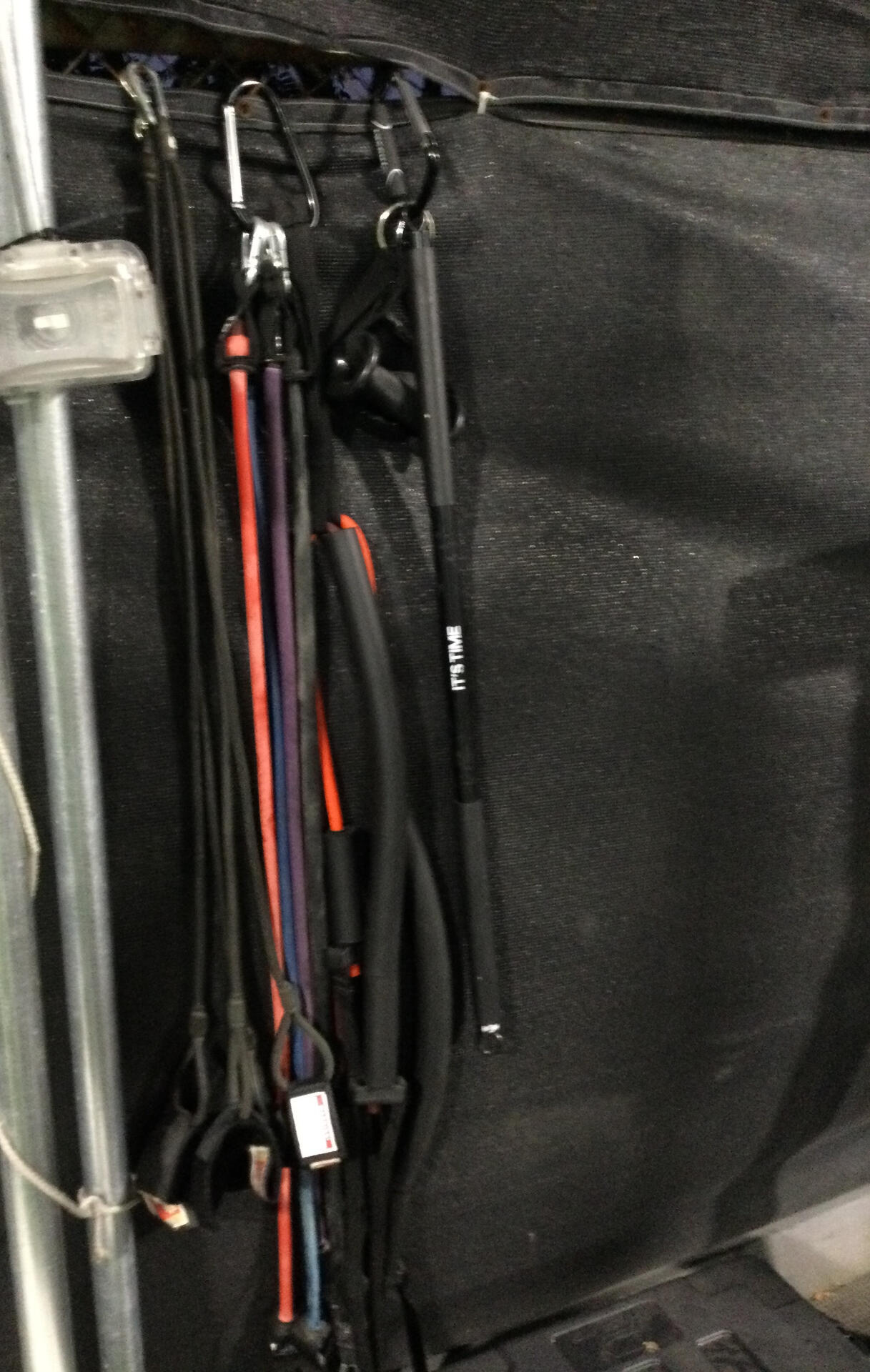 Band Area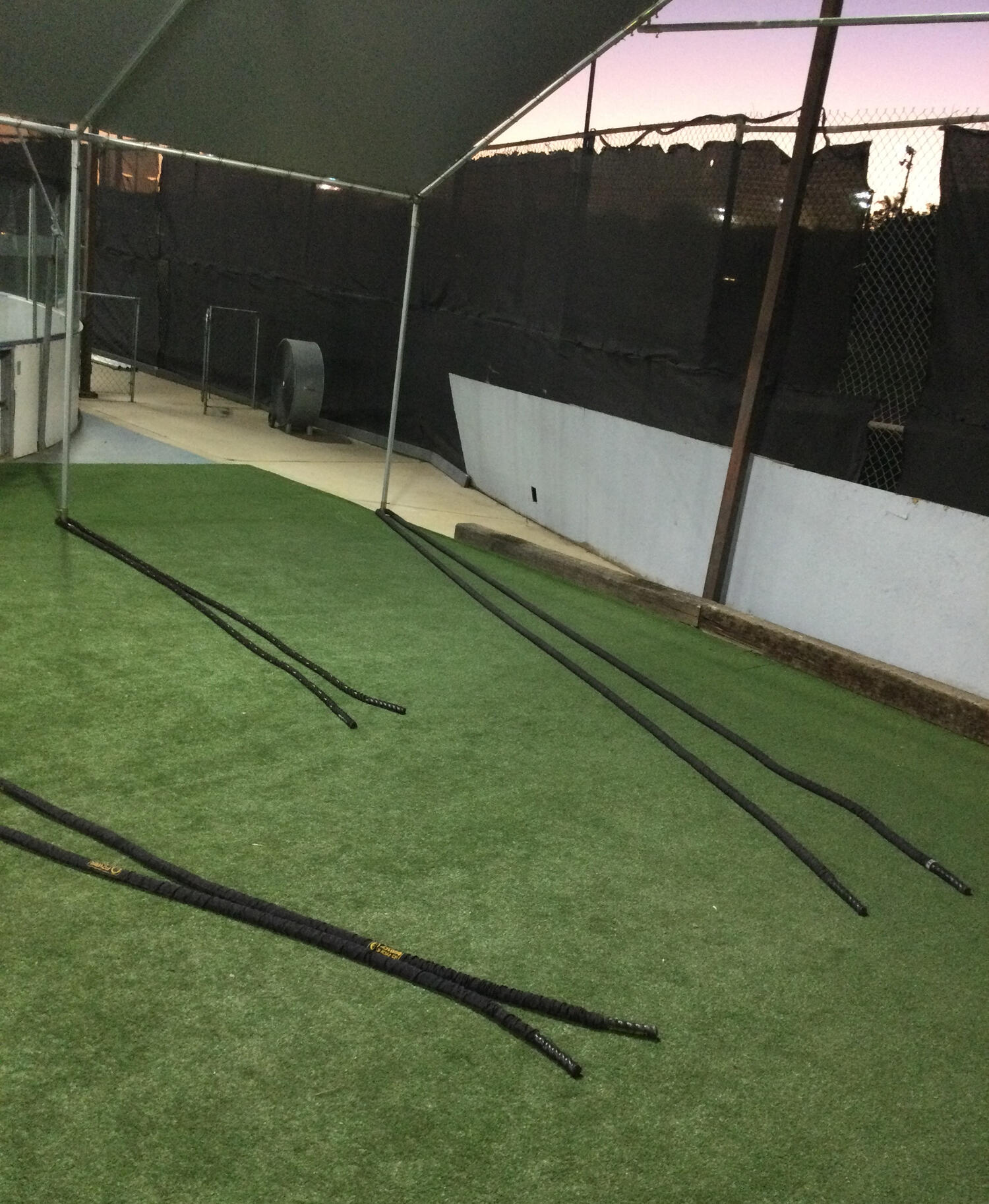 Battle Rope area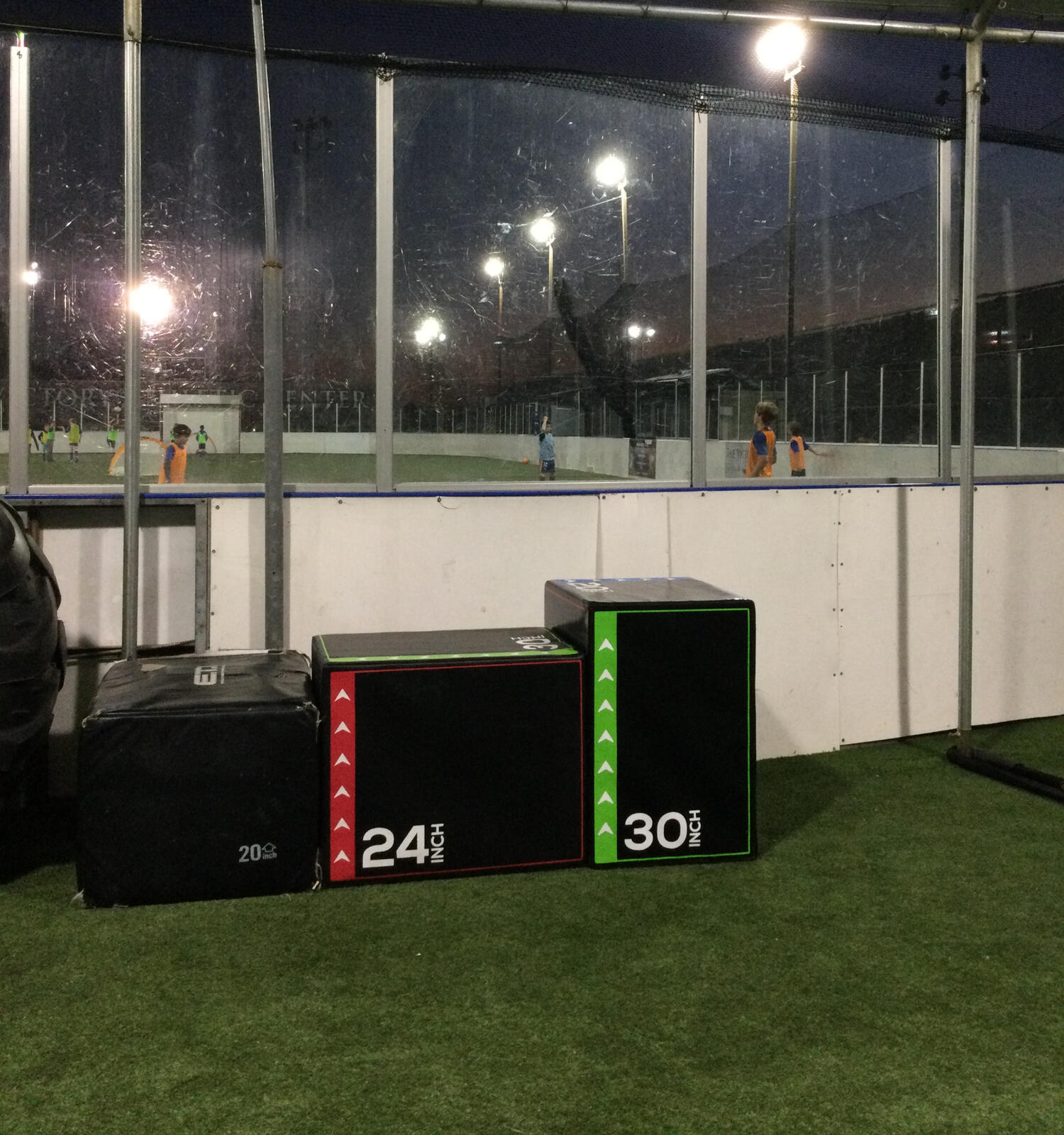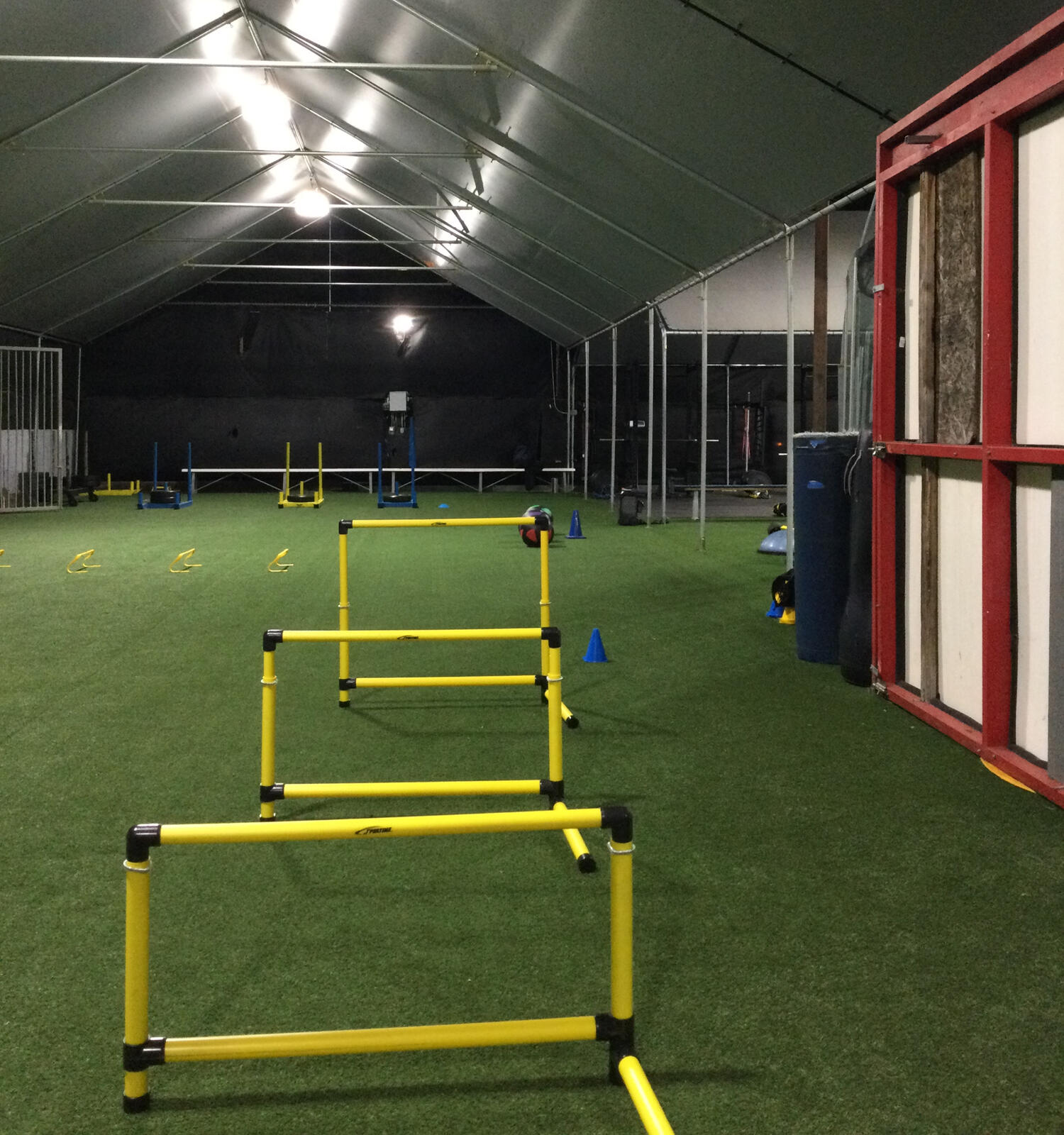 Plyometric Area
Facility Info
---
Evolution Sports Training is located in San Juan Capistrano inside of Victory Athletic Center.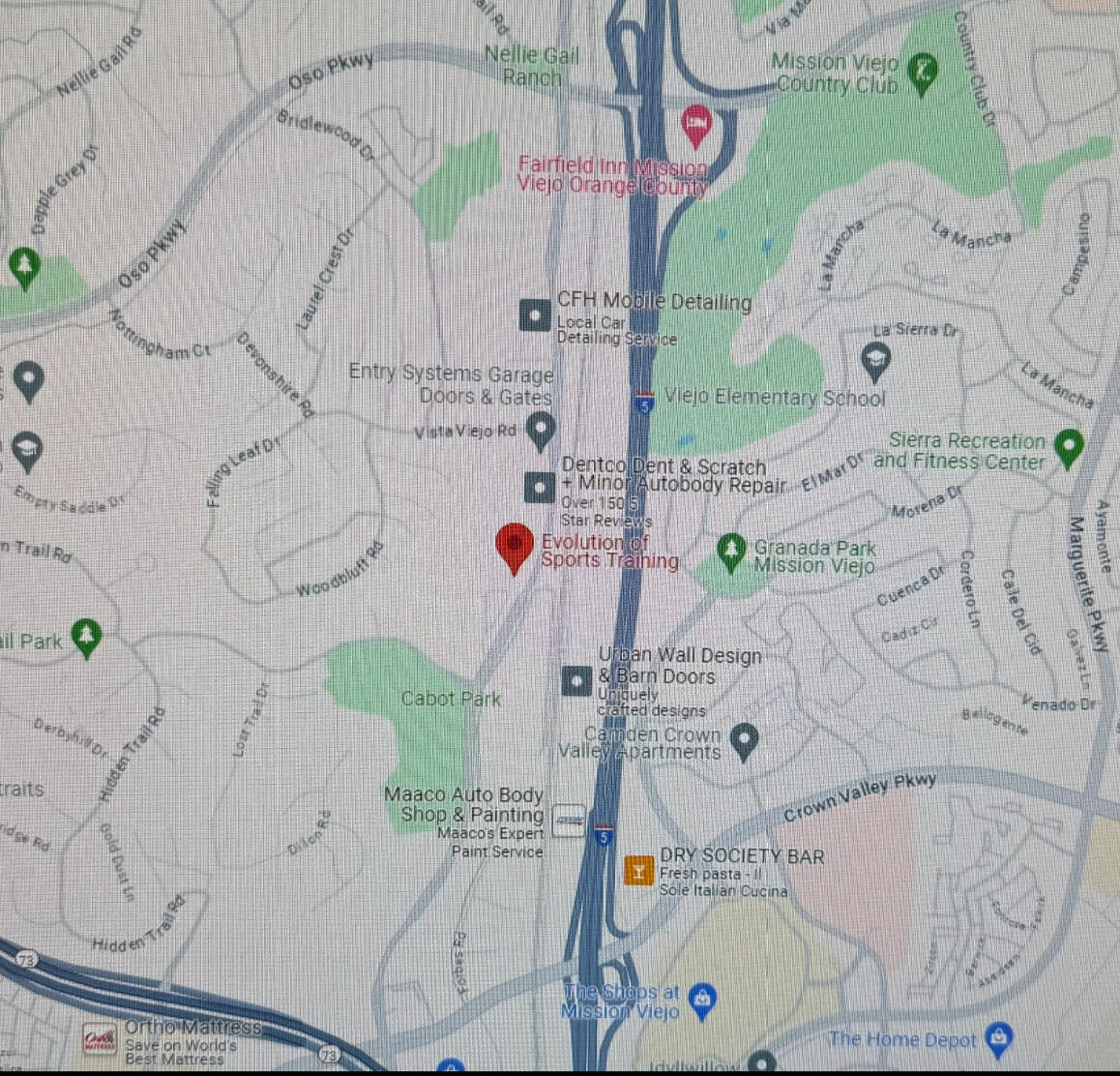 3 Via Positiva
San Juan Capistrano, CA 92675
(Park @ Kinoshita Elementary up staircase to facility)
Drill of Month
(February 2022)
Single Leg Kettlebell Deadlift
This drill is a unilateral lower body exercise that is an advance drill but foundational to what we want to do. The drill has emphasis on ankle mobility, core stability, hip mobility, and grip strength.
The key coaching points are to maintain a flat back, to dorsi flex at the ankle and to sink into the squat not hang.
Here is a Front view of the exercise pattern:
Here is a Side view of the exercise pattern:
Key mistakes to avoid:1. Control of the knee, not allowing it to dive in.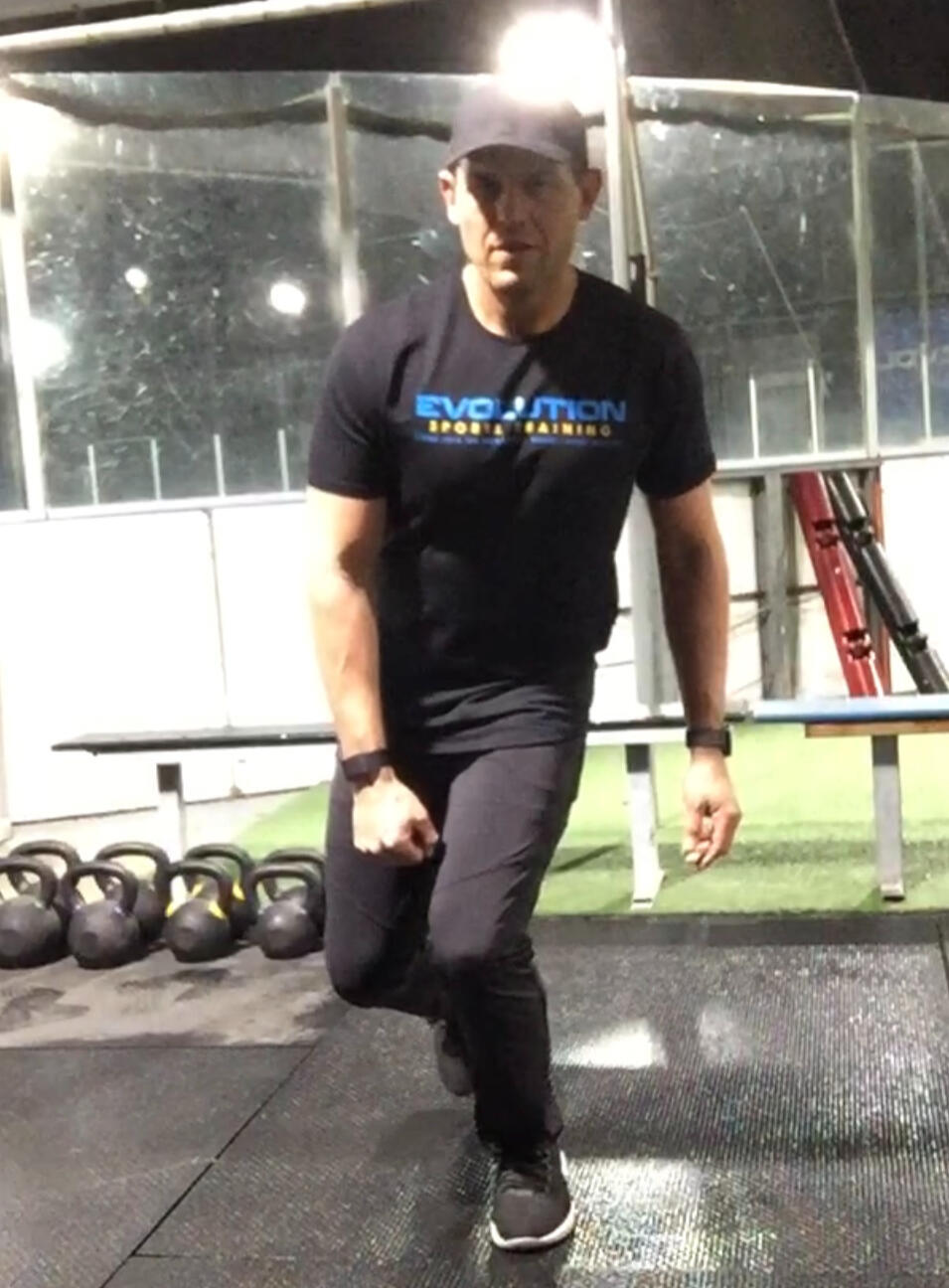 2. Working on posture do not allow the back to round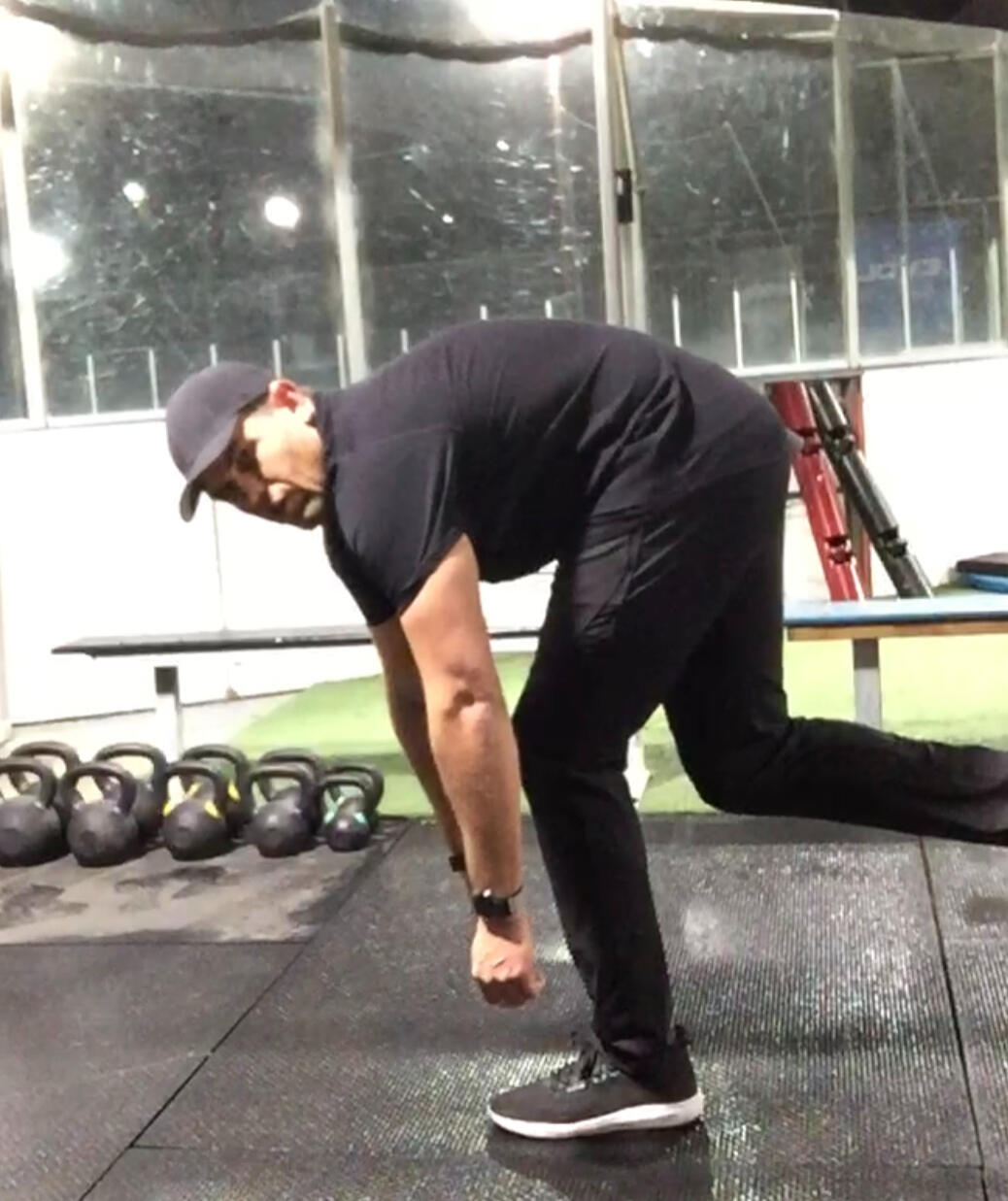 3. Emphasis on squatting into movement not hanging into it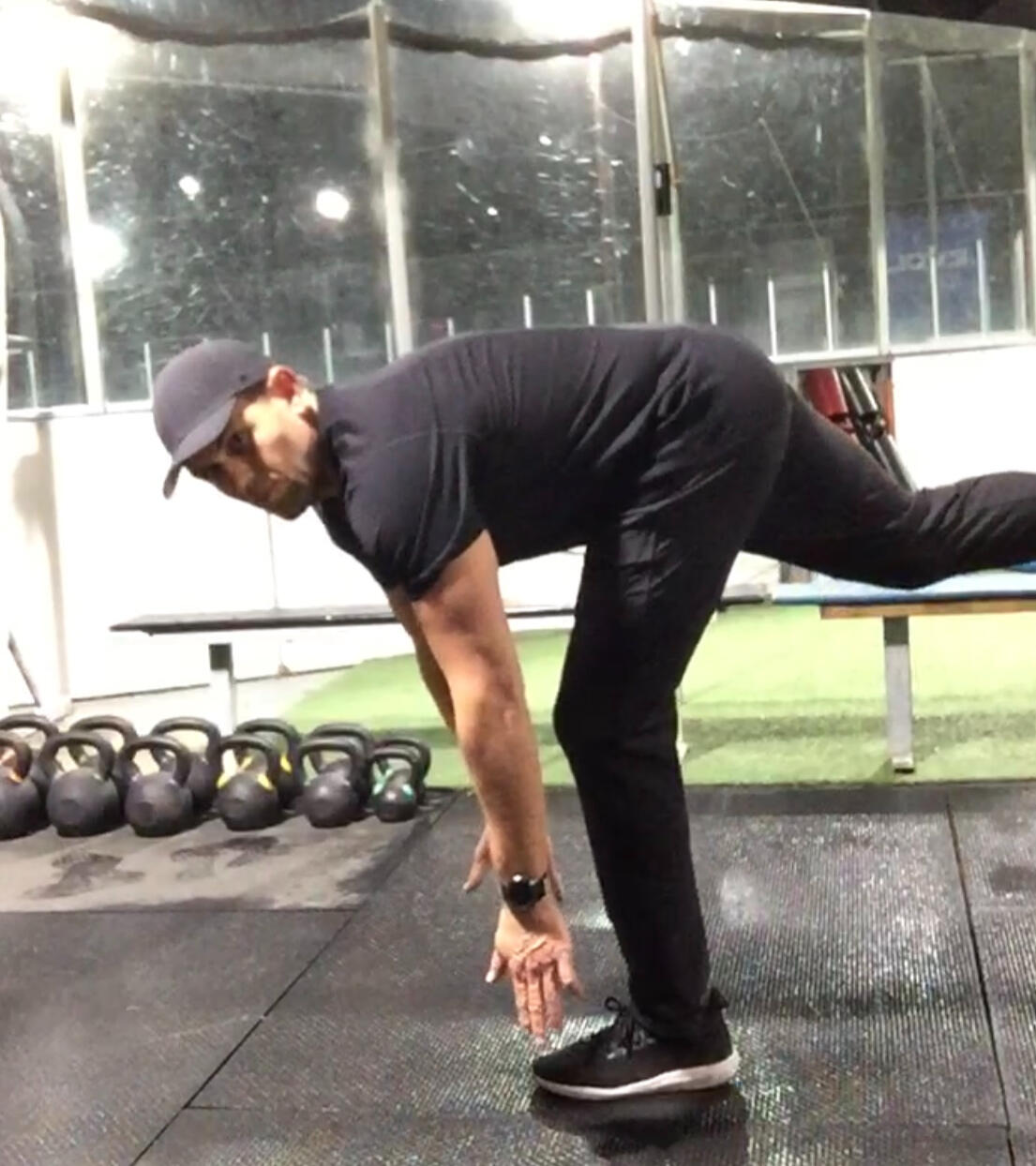 Training Footage
Sally Mcrae is a Nike sponsered Ultra Marathon runner who won the Badwater 135 in 2021.
8th grader Kaden Hawkins going through the Performance testing
Coach Newman going over some Rotational Core training
Articles of Strength and Conditioning
Importance of Strength and Conditioning for Young Athletes
by Erik Thompson
INTRODUCTION
As an eternally late bloomer, drawn to sports and competition, I had a long road ahead of me. I grew up being one of the smaller kids on a team, but also one of the most competitive. I had something to prove. Walking into day 1 of high school at a towering 5 foot 0 and a whopping 130 pounds, I knew it could be an uphill battle against the other dudes with beards on the freshman football team. With this in mind, and my athletic goals set high, I was always forced to work harder and train smarter for the slightest edge. Taking strength and conditioning seriously from a young age gave me huge advantages later on in my career, and is a major part of the reason I was able to make it to the level of sport that I did. I began training with Steve Newman, the Founder of Evolution Sports, at around 12 or 13, and went on to have a career in professional rugby. It is this strong foundation that helped lead me to my successes later on in my athletic career.
With common narratives claiming that training at a young age can stunt your growth or lead to injury, it is important to highlight the misconceptions associated with these narratives. While there are risks associated with haphazard, random, and unsupervised training in school-aged kids, it is crucial to underscore the important benefits that proper training can yield. With effective training methods, coaching, and safety precautions, young kids can see many long term benefits to their athletic careers. A strategic approach to training from a young age can have important effects in injury prevention, strength and power potential, and sensorimotor (movement) competency.
Injury Prevention
At Evolution Sports Training, injury prevention is always top of mind when it comes to our athletes. The ability to repeat efforts at a high level with consistency is crucial to any sport performance. While injuries can occur in training environments, recent research shows that when effectively prescribed and coached, strength and conditioning is one of the most effective tools in improving injury resiliency. By improving the function of muscles, bones, ligaments, tendons and joints, effective strength and conditioning facilitates proper body alignment, body control, and muscular balance. Issues in each of these are common causes of injury. Proper alignment, body control, and muscle balance allows for muscles to develop congruently, facilitating natural joint movement patterns and resistance to fatigue.
To ensure we are evolving our athletes the way we intend, we employ a thorough evaluation of movement, detailed explanations and demonstrations of technique, and follow simple yet effective principles of progression to see our athletes attain their goals. With a strong foundation, these preventive measures correlate with sustained improvement and long term development, while minimizing setbacks caused by injury.
Movement Patterns, Strength, Speed and Power
In the early stages of training, improvements in movement patterns and overall body control are often the first thing we see develop. With many body weight movements, lightly resisted exercises and simple body mechanics drills, coordination often develops first. With sensorimotor competency improving early, the longer term desired adaptations can be achieved in the subsequent training phases. By familiarizing a young athlete with foundational body mechanics and patterns of movement, the efficiency and safety in the movements specific to their sport is improved. When a foundational level of sensorimotor competency is attained in a young athlete, it is a much smoother transition to then increase the strength, speed, and/or power of the movements more closely associated with their sport.
Although strength, speed, and power are dependent on a variety of factors such as an athlete's biological age and the level of hormones in their body, the improvements in these categories can have far greater potential when there is a strong foundation set from a young age. While someone can improve their relative strength, speed, and power at virtually any age, strength and conditioning training early in your athletic career can lead to longer, more resilient (less injuries) and more exciting careers in their sport of choice.
Long Term Athletic Development by Steven Newman
Long Term Athletic Development is a scientific approach to training, that includes 7 stage of development from early childhood all the way through adulthood.Here is how they are broken down.7 Stages1. Stage 1: Active Start (0-6 years old)
a. Need to develop ABCs
i. Agility
ii. Balance
iii. Coordination
iv. Speed
(These are essential in developing fundamental movement skills because they later provide foundation for fundamental sport skills.)2. Stage 2: FUNdamentals (girls 6-8 years old; boys 6-9 years old)
a. This stage should be motivated by FUN and improving fundamental movement skills, encouragement should be placed on learning multiple team sports to develop motor skills)3. Stage 3: Learn to Train (girls 8-11 years old; boys 9-12 years old)
a. Best stage to convert fundamental movement skills to fundamental sports skills. Start having more formalized training methods)4. Stage 4: Train to Train (girls 11-15 years old; boys 12 – 16 years old)
a. This phase happens during adolescents and goal is to promote good habits and promote health and fitness5. Stage 5: Train to Compete (girls 15-21 years old; boys 16-23 years old)
a. High school age now starts doing more specific training to sport. Prepare body for highest level of competition maximizing physical, mental, cognitive, and emotional capacities.6. Stage 6: Train to Win (girls 18+, boys 19+)
a. Final stage of LTAD "Full time athlete", generally athlete will have a full team of performance enhancement coaches trainer, therapist and physician.7. Stage 7: Active for Life (Any age)
a. This is an outcome of LTAD. Overall goal is long term health and active lifestyleMoving stage to stage is not always just based on chronological age but based on athletes' development, chronological age can be a guide. Here at Evolution Sports training our goal with our athletes has been to make them unbreakable. The best way we fill fit to do that is by approaching it with a long-term athletic development plan. The foundation phase should always be set first with an athlete coming in at any age, because every athlete has a different training age. When we say set the foundation, we mean getting the ABCs down, emphasis will be placed on balance and coordination initially. While working balance and coordination we also want to get the basic movement skills down of lunging, squatting, hinging, pushing and pulling. All these movement skills along with developing balance and coordination will lead to improvements in agility and speed which will help performance the most. Its all about planning with a purpose, and that's what we want training here at Evolution to be training with a purpose, a goal in mind that will help set you as an athlete apart from the rest. So don't wait to start training, make a commitment to it and with consistency results will follow.
Strength and Conditioning Info
One Rep Max Calculator
Strength Standards
NSCA Events
Classic Articles in Strength and Conditioning